How to Fix Ball Bearing Drawers Slides
Views:51 Author:jrd-edit Publish Time: 2018-12-25 Origin:Site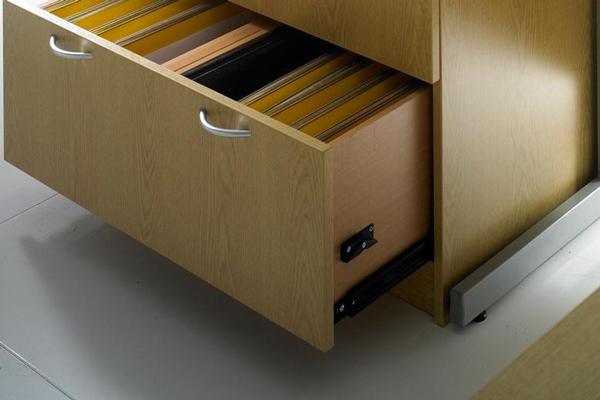 Some toolboxes and drawers in the cabinet are equipped or installed with ball rails. These railing systems use ball bearings to create a smooth opening and closing action to facilitate retrieval of the contents of the drawer. Unfortunately, over time, the lubricant can begin to dry out, and the drawer becomes more difficult to open. To solve this problem, you only need a few items, and your drawer ball bearing will work as new again.
You can actually fix this problem by following some simple procedures to get your ball bearing drawer slides working again. Here are some simple steps to follow.
Step 1:
The first thing you need to do when the drawer becomes difficult is to open the drawer and empty all the contents. Then, try opening and closing the drawer to determine if it is the ball bearings or it has been one of the objects inside preventing the drawer from opening and closing properly. This step is important and should be done first to figure what exactly is wrong with the drawer.
Step 2:
Pull the drawer up and out of the slot. Carefully examine the rails on both the outside of the drawer and the housing for foreign objects. There may be something blocking the free movement of the ball bearings. If you find anything obstructing the ball bearings from rolling freely, then you can carefully remove it by hand or with a pair of pliers.
Step 3:
Sometimes it may be that there is a bend in the drawer slides. This can obstruct the free sliding of the drawer. Therefore, carefully examine the drawer slides from the beginning to the end for any kind of bend no matter how small. Straighten kinks or elbows in the drawer slides with needle nose pliers if necessary.
Step 4:
Sometimes dryness can cause friction in drawer slides. Moisten a microfiber cloth with mineral oil and scrub the microfiber cloth along the slides and over the ball bearings several times to ensure that you get the drawer slides well lubricated. In addition, coat the other rails with mineral oil. This is done to reduce friction between the balls and the rail.
Step 5:
Insert the drawer into the recess and pull - open and close repeatedly; this time, the drawer should be able to slide smoothly in and out.
It is highly recommended that you try out these simple procedures before replacing your drawer due to faulty slides, and you will be amazed how fast you drawer slides can come back to shape.
Some people will assume their drawer is bad and start thinking of getting a new one installed but you may not necessarily need to change it. You can actually fix this problem by following these simple procedures to get your ball bearing drawer slides working again.
Don't stop at that. You should always pay good attention to any minor obstruction on the movement of the drawer.