How To Measure A Drawer Slide?
Views:249 Author:Site Editor Publish Time: 2019-06-28 Origin:Site
The reason why you are here today is maybe that you are thinking about updating your kitchen or you just want to replace your old drawers with new ones. Well, whatever the case is if today you are here to learn about how to measure a drawer slide then yes, you are at the right page! Today we are going to tell you everything you should know about a drawer slide and how to choose the right size.
Speaking of drawer slides, they are placed on almost all the drawers, and they come in a set of two for each side of the drawer. Now whether you have a ball bearing slide rail or a nylon bearing slide, if your drawer isn' t coming out smoothly and if it' s making a lot of noise or is stuck then yes, you should know that it' s high time for you to replace the drawer slide and for that, you just need a screwdriver and nothing else. Drawer slides come in different lengths and before buying them, you are supposed to make sure that you are buying the right size and the right length.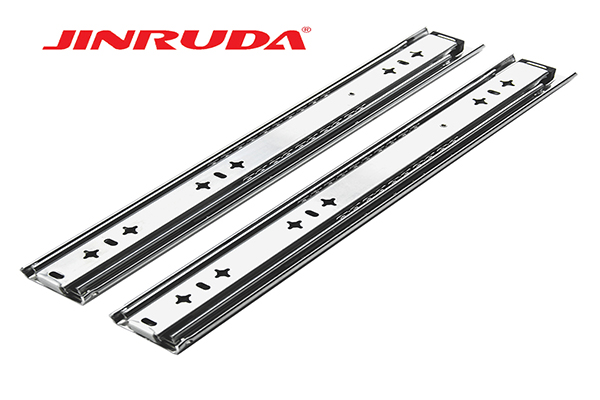 Measuring A Drawer Slide
1-The first thing you have to do is to remove the drawer slide from the cabinet and then turn it upside down so that you can see what' s beneath it.
2-Now start measuring from the back of the front of the drawer to the end of the box drawer. Don' t include the drawer front and only measure the box alone. Now, round off the measurement towards the lower figure on the tape. For example, if the measurement comes out to be 32 ½ inches, then know that you have to purchase 32-inch drawer slides.
3-Now, start measuring the width of the drawer. First of all measure the width of the opening of the drawer that' s in the cabinet. You can put full extension guides in use if the both your measurements come out to be ⅛ inch. In case the measurement is less than this figure then just simply opt for bottom mount guides.
This is the whole process of measuring drawer slides. It' s simple, and it' s easy, so make sure to follow all the steps properly if you don' t want to end up buying something that is just a waste of your money.
Also, make sure to buy the right drawer slides for your drawers because these slides are the reason why your drawers open smoothly. Buying poor quality drawer slides can create unnecessary noise when you pull out your drawers, and on top of everything, your drawer might even get stuck too which is the last thing you'd want to happen on Earth especially if you' ve got some important stuff inside the drawer.
We hope this article was helpful for you and that now you know how to measure a drawer slide. So, follow the steps we mentioned, and we assure you that measuring and buying drawer slides won' t be a problem anymore.