What Are Applications of Ball Bearing Slides?
Views:368 Author:Site Editor Publish Time: 2018-10-17 Origin:Site
There are many types of linear slides and ball bearing slide (often called "ball rails") is one of the most common one. Ball rails move smoothly and precisely along a linear design of single axis and use ball bearings housed in linear bases to increase reliability through self-lubricating properties. Ball rails or ball bearing slide applications mainly include robot assembly, manufacturing of precision instrumentation, high-end equipment, cabinets, and cleanroom environments, but also for furniture, electronics and construction. For instance, ball-bearing slides are widely used in the furniture industry.
Generally made from materials like cold rolled steel, aluminum, galvanized steel and the ball bearing slides are fixed by four rods and contain two linear rows of ball bearings positioned on both sides. A pedestal that allows the carriage to move the ball bearing linearly. This type of ball bearing's low friction linear motion can be determined by a drive mechanism, inertial or manual. Ball rails generally have less load capability than other linear slides because they are less resilient to cut and abrasion. Ball-bearing slides are also restricted by the need to familiarize with housing or training systems.
Here are some applications of ball bearing slides:
• High cycle applications
• Fine measurement
• Clean room environment
• Rated load of 60 to 700 lbs
• A pair of commercial safes
Distinct features of ball bearing slides:
• Quick and easy installation
• Smooth and quiet driving for frequent cyclists
• Low push / pull force of 10% to 15% of normal load
• Heavy duty models are perfect if you require reliable, strong performance.
• A lock that locks the slide in its extended position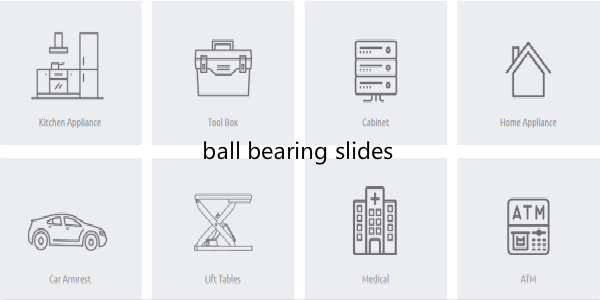 Ball bearing slides manufacturers
In modern times, there are many manufacturers in the market that offer different types of ball bearing slides depending on customer needs and convenience. Each ball bearing slide has its own characteristics. Other ball bearing slides are used for other purposes. This slide in the market is provided to the customer by the manufacturer.
Single extension slide
A single elongated runner is a two-beam cold-rolled drawer with internal and external profiles connected by ball-bearing cages. The performance of this slide is up to 75%. The length varies from 200mm to 700mm, and the load capacity of the ball bearing slide varies from 35kg to 91kg. This single runner is suitable for light applications such as kitchen and bathroom drawers as well as office furniture.
It has its other version too which is:
· Single extension slide two way
Single extension slide two way means the slide can travel in dual directions
Full extension
A full extension slide consists of three profiles: an internal profile, an intermediate profile, and an external profile. In addition to this variation, there are four beam slides with internal profiles, medium, other media, and external profiles. They all interconnect with ball bearing cages for smooth sliding. These telescopic slides can be used for heavy applications. The load capacity is between 28 kg and 289 kg and depends on different cycle tests.
It has its other version too which is:
· Full extension slide two way
Full extension slide two way means the slide can travel in both directions