What Kind Of Material Of Ball Bearing Slides Can Hold Heavy Duty
Views:2 Author: jrd-edit Publish Time: 2019-01-14 Origin:Site
Ball bearing slides which can hold heavy duty are required in many applications where heavy equipment is needed. These slides are made with high quality materials and are considered as the best among other drawer slides. They are known for their highest performance as well as easy usage. The heavy-duty drawer slides likewise help to provide high level of precision when making cabinet or other applications.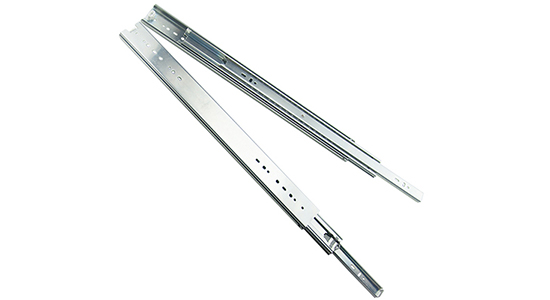 The heavy-duty slides provide every special feature which you can ever think of in a slider. The material is made of high-quality aluminium which ensures high performance in any humid or moisture condition. Aluminium have the ability to resist corrosion and has lighter weight when compared to steel thereby making it an ideal slide when installing in a heavy-duty application. The combination of this with stainless steel ball bearings as well as ball retainers provide the strength which is needed for the heaviest applications without the additional weight of steel slides. However, when choosing a ball bearing slides for heavy duty, there are some considerations which you have to make and some of them include the following:
Weight Rating
The first and most essential item to consider when searching for the best drawer is the amount of weight it is expected to hold. Every drawer comes with a specific weight rating, this is the amount of weight the slider is designed to support. You also need to consider the materials which would be kept in the drawer. Will it be a file cabinet? Is it for light office supplies? Or the drawer will be used for industrial applications which requires a lot of weight to support. Most of the sliders which are manufactured are rated at 75, 100 or 150 pounds. However, some ball-bearing slides can hold up to 500-pound load. Knowing the weight of load, you need to support may help in finding your choice thereby narrowing down your choices to those that is specific for your needs.
Mount
How will your slide be mounted to your drawer? There are three options which you have to consider and each one of them have their highlights. The first and most basic is the centre mount, a centre mount is affixed underneath the drawer. It is a single slide which can be cantered along the bottom. Because the slide is underneath the drawer, these kinds of mount cannot be seen when the drawer is open. This is very good if you would like to highlight your wood cabinetry and are also used frequently because of their economic value. However, a centre mount will typically have a lighter weight rating which may not be the appropriate choice for a drawer which will be holding items which are heavier.
You can also choose side mounts, these types come in pairs and each is mounted on the drawer sides. These will also require a clearance between the drawer and the cabinet opening. Side mounts will have the ability to carry heavier weight when compared with centre mounts but would be seen whenever the drawer is open.
The third option which is available is under mount. The under-mount slides likewise come in pairs but they are attached to the underside of the drawer. These are a good choice if you would like to accommodate a heavier load but do not want unsightly hardware on your drawer sides. The under mount has become popular because of their ability to carry heavy materials as well as quality materials.