Application of Slide Rail in Server Cabinet
Views:222 Author:jrd-edit Publish Time: 2019-03-12 Origin:Site
The server cabinet's slide rails allow you to install non-rack-mount equipment, such as desktop servers, network equipment or KVM switches, in your 19-inch server rack, without having to waste 1U of rack space, which would be the case with a conventional shelf. Server cabinet's slides rails are also a great solution for assembling equipment that has damaged lanes or discontinued equipment from OEMs, such as Dell ™, IBM®, HP® or Apple servers that no longer have lanes available for sale.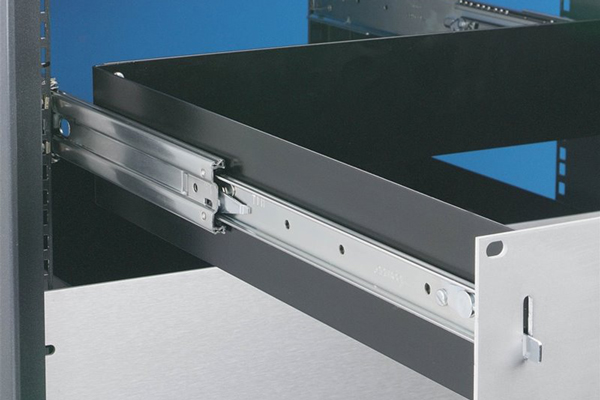 The server cabinet's slides are an economical solution for contractors, small computer centers, schools, or networks, and smaller scale network businesses that need a general purpose cabinet where they need to house servers and communications equipment.
The server cabinet's slides are equipped with adjustable rack angles, diversity of sizes and accessories that provide the server cabinets with greater flexibility of use.
This product meets the requirements of the US Federal Trade Agreements Act (TAA), which allows government purchases of the GSA Program.
Convert non-rack-mountable hardware to 1U rack mount hardware
These rack rails add functionality to your equipment that is not rack mountable since they house your equipment in an open structure reinforced with three strong crossbars. You can install your equipment that is not rack-mountable by installing rails in your server rack and placing your equipment under the structure. In the case of equipment that already has mounting holes, the rails also allow several mounting options to fix your equipment, for more safety.
Its universal design allows installation in almost any 19-inch rack
Since they have been manufactured in accordance with the EIA-310 standard for rack mounting equipment, these mounting rails are compatible with all 19-inch server racks. The bottom is adjustable, which allows various rack sizes and configurations. In addition, there is a rear panel for cable management that can be uninstalled, in order to allow for more customized adjustment.
Maximum durability
To ensure that your equipment is installed in a fixed manner, these assembly rails have been manufactured with cold rolled steel. Its durable design has a capacity for a load of up to 25kg.
Use them for rack mounting equipment from OEM manufacturers (original equipment), such as Dell, IBM, HP or Apple servers that no longer have lanes available for sale.
General features
· Includes two sets of adjustable L-rack angles for ease of use during the installation of the equipment.
· The rack angles of the server cabinets have 10-32 threaded holes in accordance with the requirements of EIA standards.
· The rack angles of the server cabinets have separate square holes according to EIA requirements.
· The configuration of the rack angles of all the cabinets are 700 and 800 mm wide and can be adapted to 19" or 23" racks.
· In the 600 mm wide cabinets, the equipment mounted in 19" rack angles are centered.
· In the 700 and 800 mm wide cabinets, the rack angles can be adapted for the equipment to be installed in the center of the rack or near the left or right flank for better cable management.
· Rack angles adapt to any position within the rack.