Application of Slide Rail
Views:197 Author:Site Editor Publish Time: 2020-05-26 Origin:Site
Slide rail is a common and key component in our daily life, which known as guide rail and slide way, refers to the hardware connecting parts fixed on the cabinet body of furniture for the drawer or cabinet board of furniture to move in and out. The ball bearing slide rails are applicable to the connection of drawers of cabinets, furniture, document cabinets, bathroom cabinets and other wooden and steel drawers. And if you have a need of a slide rail, the Jinruda would be highly recommended.
Jinruda focus on providing users with a sliding solution, professionally customized ball bearing slide rail, with over 15 years' experience, we know how the right solutions and optimization services supports your brand and contributes to your profitability. you can get our commitment to quality and service. Major products in Jinruda are divided into eight series: kitchen appliance, medical devices, cupboard, server cabinet, tool cart, automobile handrail box and ergonomic equipment. And let's pick some of common series to introduce with mor details.
First of all, slide rail is commonly shown in the kitchen drawer slide. The main types in kitchen appliance are range hood, integrated cooker, disinfection cabinet, oven and air purifier. For the kitchen drawer slide, the related slide rail will help integrated kitchen as the following. Unique material and intelligence show high-tech, enabling people to enjoy much convenience during cooking. The embedded design saves space and makes kitchen clean. What' more, in an environmentally friendly concept, energy saving, and environmental protection can be brought by slide rail in Jinruda. Harmonious appearance also attracts many customers. Jinruda cooperated with many famous appliance companies (Haier, Electrolux, aupo, Pentium) in business of slide rails. Combining the experience of using from these high-quality customers, Jinruda has completed the application for kitchen drawer slide industry. Take integrated cooker as an example. The special designs in it are high quality stainless steel; excellent wet resistance ability and safe load capacity (above 50 KG).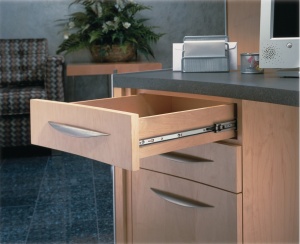 Next is for the medical devices. As we all know, convenience is really important in medical devices, which can be provided a lot by the ball bearing slide rails. The quality requirements of the medical device industry are very strict. Jinruda company can provide the best quality sliding solutions. Jinruda has completed the application for medical devices industry. Medicine vending machine is the most common type with ball bearing slide rails, which has soft close, installation clearance and rails mounted on the bottom of the cartridge. In addition, the baby incubator has two-way pull and damping force between 0.2-0.5N. Client carts are common too. It can load rating over 25 kg, be suitable for medium duty slide and even heavy-duty slide. It uses high-quality stainless-steel material and is locked when closed.
Last but not least, the final type will be introduced is the application in tool cart. Jinruda provides customizable toolboxes and slides for file cabinets, enabling suppliers' products to generate quiet, smooth, and fluent user experience, and to elevate the aesthetic level. The most typical type of application in tool cart is the file cabinet, mostly used tool cart, tool kit and file cabinet. File cabinet has smooth and stable motion, fast installation, mute design of damping and automatic closing function as well.
To briefly conclude, if you want to buy ball bearing slide rails related products, Jinruda is a really good choice for you to take into consideration. The series which not introduced here also are standing-out and you can visit the official website and get more specific information by your own.