File cabinet ball bearing slide
Views:1 Author:jrd-edit Publish Time: 2019-01-07 Origin:Site
You can easily organize your valuable files smoothly with the appropriate kind of filing cabinet drawers. These cabinets are selected based on your present as well as projected needs and requirements. Obviously, it is crucial to have a good ball bearing slide so that it would be able to accommodate the required load and also slide appropriately. Filing cabinet which are sold commercially either have two, three, four, five and six drawer models. However, your choice of cabinets can be made of wood, metal as well as plastic either in vertical or lateral files types.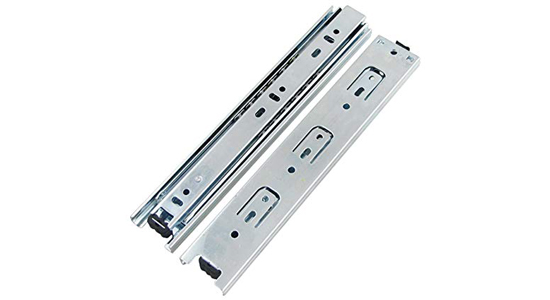 Vertical cabinet drawers have smaller and compressed drawers with in depths of 25 up to 28 inches. Lateral type has horizontal drawers. The drawers are manufactured with the aid of roll bearing suspension systems and sliding rails supports so as to ensure ease of movement as well as access to full drawer extension. These models of file cabinet can also accommodate hanging files and spring-loaded follower blocks. The popular drawer which is bought by many public and private establishments is the metal or wood file cabinet and they also have the ball bearing slide which ensure smooth sliding. The traditional colour is gray but they are now available in several colour options for the metal type. For the wooden type, there are several natural or printed finishes which can be chosen from. Also, there are water resistant as well as file drawers.
Beautiful file cabinet are made of oak, pine, cherry as well as maple, they can come in solid wood or a combination of natural wood as well as wood veneers in stunning finish. Cabinets are also built with ball bearing slides so as to enhance mobility. This kind of lateral cabinet is multi-functional and can serve as a table, telephone as well as printed stand. Thus, for a functional, visual as well as lasting value, a wooden file cabinet is the best option.
Ensure you take a look at the features of a locking lateral for drawer file cabinet. This has a full drawer extension with its progressive telescoping ball-bearing slides to effect smooth as well as trouble-free operation. Built-in drawer interlock system is also used to prevent more than one drawer for opening at a time so as to avoid any cabinet tip over. It has a single centre lock system for both side of each drawer with a master key for a complete security. The handle of the file cabinet are made of aluminium with reinforced steel drawer fronts. The drawers have rolled edge sides for durability, strength as well as safety. You can also add a powder coat finish.
There are also mobile file cabinet with large drawer for both legal as well as letter sized hanging files. The large top drawer can accommodate printer or accessories. Its rolling wheels can make this cabinet accessible wherever you want it to be. Whatever the requirement you want for your file cabinet ball bearing slide, you can always get it. Thus, when buying file cabinet, ensure you consider the ball bearing slide because it would determine the quality of the cabinet.