How do you remove double framed sliding drawers?
Views:288 Author:Site Editor Publish Time: 2020-02-12 Origin:Site
These days, every drawer features a double framed sliding whether it is in your desk, in your kitchen cabinet, or your closet. The simple structure drawer has a drawer slide that enables it to move freely and easily. The drawer slides feature ball bearings or rollers to function smoothly and this applies to every drawer slide for furniture. Some have one metal sliding frame while some feature double metal frames. But there are times when something just falls into the back cavity of a drawer and now you can't get it open or close fully. In those times, it is necessary to take out the things that have fallen in the back to resume functionality. It's either that or you want to move the furniture, so you need to take out the drawers from your dresser, closet or desk to make it lighter. The removal of double framed sliding drawers can be a problem and so many people don't know how to safely remove it or put it back without damaging the ball bearings and soft-close drawer tracks. Here we have a little guide for you to do it yourself whenever you need to remove the double-framed sliding drawers. Have a look:
Step # 1: The first step involves removing the contents from your drawer. This way it will be easier to manage the drawer and your contents will be safe from dirt or getting damage in the process.
Step # 2: If your dresser, closet or desk features more than one drawer, it would be better that you start from the top and then come down to the last drawer one by one.
Step # 3: Now that you have emptied the drawer, open it to its full extent. Keep your hands on each side of it and stand a few inches far to create a space between yourself and drawer to be open to its full extent.
Step # 4: Now try to find the track lever. It is supposed to be in the center of each track. When you find it, then abruptly press them together and pull the drawer upwards. This process is easy if you have a straight track drawer slide for furniture, but the curved track would have you push it a little until it flattens out.
Step # 5: The last step involves getting the drawer out from the double slides. Now you can pick up the things that were fallen there, clean the back cavity and put this drawer back with the same procedure you used to remove this.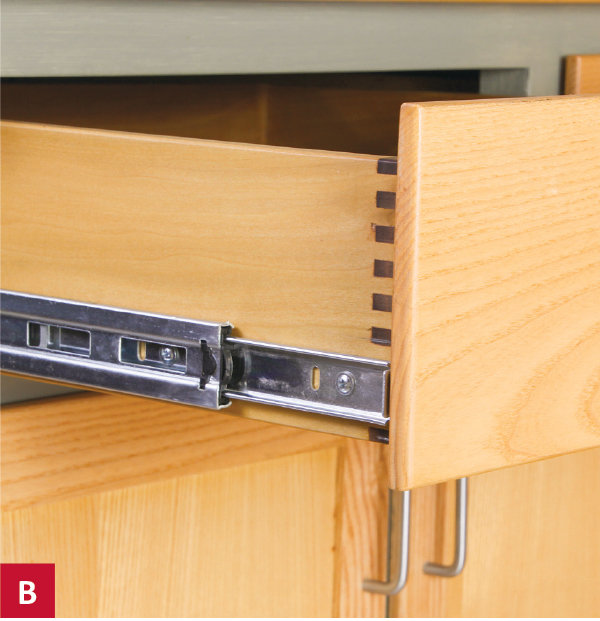 In high-end furniture, soft close drawer tracks are used because the metal sliding could damage the furniture. So, they make the wood frame with a few inches space so that it wouldn't get stuck ever and even it does, there is minimum damage to fix it. They are easy to remove as they can open to their full extent easily. Whatever your drawer type, it is removable, you just have to figure it out.